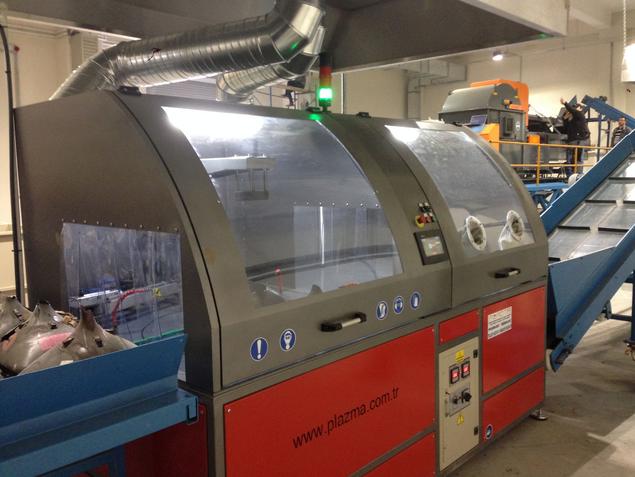 Cathode Ray Tube, CRT, is one the most important E-Waste in all over world and has became a global environmental problem. TV or a computer monitor's CRT contains toxics lead and phosphor dust dangerous for people and environment.
Our CRT monitor cutting and recycling machine can process a broad range of TV or Computer's monitor size.
The machine can be defined as two major parts;
Full Automatic Cutting Part
Phosphor Vacuum and Cleaning Part
Before our machine process, all the plastic parts, explosion tape, electronic circuits, labels etc. must be removed from CRT.
Monitor cutting is realized by a hot band technology.
When the CRT monitors are placed our machine, safety door has been closed and monitor will be centralized by machine.
By means of highly sensitive sensors the CRT monitor dimensions can be defined by machine PLC. Also voltage setting, wire tying, tensioning and similar parameters can be arranged by machine automatically.
The machine completes cutting process automatically by PLC without opening safety door.
When CRT monitor cut by machine; three basic outputs occur;
Leaded glass is "Funnel Glass" with %25 lead in weight also Neck glass
Monitor glass
A metal plate is "Shadow Mask"
In the second stage of machine, phosphor dust in monitor glass is vacuumed by a vacuum machine with a high grade of silicon based cartridge filter.
Our CRT cutting and phosphor dust cleaning machine is appropriate with WEEE regulations and it has CE certification.